In the mid-1990s I conducted interviews for a small entertainment newspaper. The editor was a friend who knew my tastes, so he gave me assignments I'd enjoy. I interviewed a pre-Titanic Leonardo DiCaprio, a rapper-turning-actor named "Marky Mark" Wahlberg, the art-house rocker Jim Carroll, and other artists who whose work was at the time considered edgy or who hadn't yet made it to the top.
One day the editor called me, because he was in a bind. The newspaper had committed to doing an interview, but there was no reporter free on the day it needed to be done . He asked if I could do it.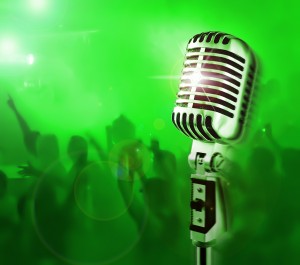 "Sure," I said, assuming I'd be meeting some up-and-coming Method actor or a rock 'n' roller who shunned the public. "Who do I interview?"
"A star," he said. "Vanessa Williams."
I rolled my eyes.
It wasn't personal. Vanessa Williams is, in fact, a gifted performer. I'm just not a fan of Top 40 dance music and ballads.
I'd grown up listening to The Plasmatics, Sham 69, and Killing Joke. Raw, angry, bracing, countercultural noise. My friends and I would slam-dance to those groups in crumbling, dimly-lit, Manhattan punk clubs which violated every safety code on the books. Slickly orchestrated love songs performed by beauty contest winners and me just didn't mix.
Still, my friend was in a jam, so I took the CD Vanessa Williams was promoting and got to work.
I had a week to prepare, so I listened to her album a dozen times. I doped out the lyrics, and studied its musical progressions. I also did my scholarly research by searching the Internet, and paging through back issues of People and Us. All told, my Vanessa Williams studies must have added up to twenty-five hours. It was time-consuming, but I drafted my interview questions and was ready. I'd become a Vanessa Williams expert in a week.
The morning of the interview, though, the editor phoned with bad news. Williams' PR person said a scheduling conflict had arisen. Williams was sorry, but she had to break our meeting. There'd be no interview.
Here I was with a head full of Vanessa Williams knowledge, and nowhere to use it. I felt like the professor of a dead language who had no one to teach.
Of course, I was able to use my newfound expertise to  review her album (I gave it an "A"). Yet I was still disappointed I'd wasted so much time cramming for a subject that'd be of no future use. I vowed never to let that happen again.
In my mind I called it "The Vanessa Williams Rule." Simply stated, the rule read: "Don't take on a project unless you're going to love the process, because the expected endpoint may never come."
In other words, the journey better be worthwhile, because the destination may vanish before you reach it.
I got the chance to invoke the rule the following week. The editor called me with another star interview. I held my breath and prayed it was with Mitch Hedberg or one of the Coen Brothers. Alas, it was with Shannen Doherty.
Like Williams, Doherty is talented at her craft. But I'm not a 90210 guy, and I didn't want to study to be one — especially if the objective might unexpectedly pop like a soap bubble.  I passed, and instead interviewed Marshall Crenshaw. Not as glamorous, but more my style.
Since then, I've used "The Vanessa Williams Rule" as a business rule. If I'm asked to write a book or work on any type of project, I divide it into "process" and "result." For me to take the gig, both parts have to be meaningful and fun.
It's a good rule, I think. Try using it yourself, and tell me how things go.