Yesterday, straight from the bindery, I received a couple of hundred copies of my latest book: the revised and expanded second edition of "Accidental Genius: Using Writing to Generate Your Best Ideas, Insight, and Content."
Here's me opening a box. (My wife, by the way, hates that I take photos in our kitchen. I'll remember next time.)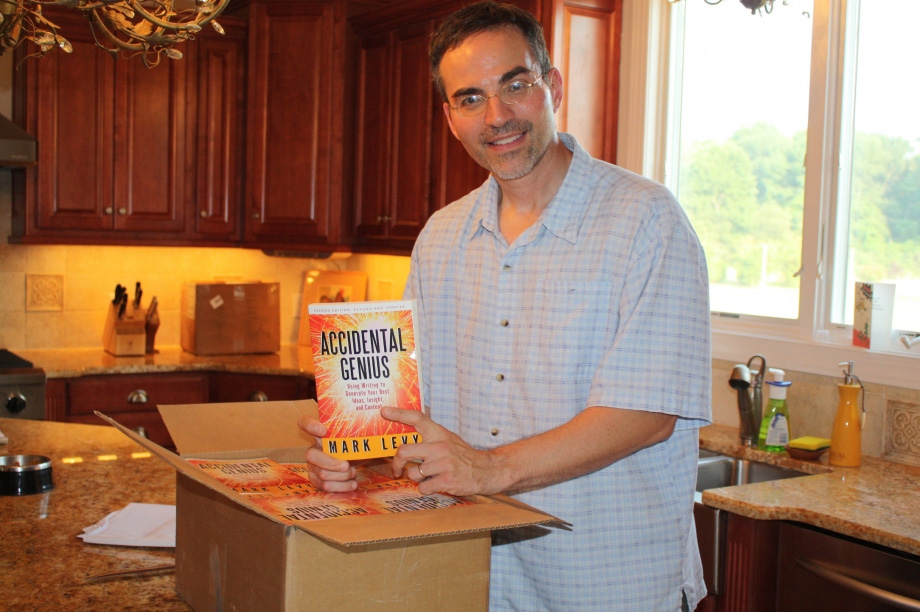 The book, which is published by Berrett-Koehler Publishers, hits bookstores over the course of the next two weeks.
Early readers enjoyed it.
David Meerman Scott said he devoured it "in one sitting, even though I had to pee really badly near the end." He went on to say that he "couldn't work without the ideas in this book."
Michelle Davidson, the editor of RainToday.com, got caught up reading it, too. She told me she was on an airplane, and planned on watching her favorite show on the miniature TV embedded in the back of the seat in front of her. She started reading my book, though, became absorbed, and forgot to catch her program.
What's the book about? It teaches readers a liberating, freestyle form of writing, called freewriting, that does two things for them:
1. It acts as a problem-solving tool, which helps them think through business problems.
2. It serves as a tool of thought leadership, which enables them to write one-of-a-kind books, posts, speeches, and anything else they need to stand out.
Here's a piece of the introduction:
"Freewriting is one of the most valuable skills I know. It's a way of using the body to get mechanical advantage over the mind, so the mind can better do its job.
"As expansive and impressive as the mind is, it's also lazy. Left to its own devices, it recycles tired thoughts, takes rutted paths, and steers clear of unfamiliar and uncomfortable territory. You could say one of its primary jobs is to shut off, even when there's important thinking to be done.
"Freewriting prevents that from happening. It pushes the brain to think longer, deeper, and more unconventionally than that it normally would. By giving yourself a handful of liberating freewriting rules to follow, your mind is backed into a corner and can't help but come up with new thoughts. You could call freewriting a form of forced creativity.
"The technique will work for you even if you don't consider yourself a gifted writer or thinker. The writing itself generates thought, which is why some refer to this technique as automatic writing. It often produces intriguing results without labored effort on the part of the writer. At times, the thoughts seem to pop up on their own."
I'll be writing about "Accidental Genius" and its techniques in many of the upcoming posts.
If you get a copy and try freewriting, please let me know how it works for you.