"The two drummers settle in behind their kits. One sends out a cosmic boom from a bass drum, and we in the audience feel it as much as we hear it. A cheer for the boom!"
— David Meerman Scott & Brian Halligan
"Marketing Lessons From The Grateful Dead: What Every Business Can Learn From the Most Iconic Band in History"


If you take a look at the one hundred bestselling rock 'n' roll singles of all time, you'll see songs by celebrated performers, like The Beatles ("I Want to Hold Your Hand," "She Loves You," "Can't Buy Me Love," and "Hey Jude") and Nirvana ("Smells Like Teen Spirit"), as well as songs by one-hit wonders, like Zager and Evans ("In the Year 2525") and Mungo Jerry ("In the Summertime").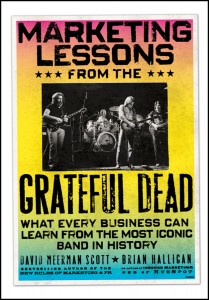 What you won't see on that list are any songs by The Grateful Dead. No "Truckin" or "Casey Jones." You won't even find the group's highest charting single, "Touch of Grey."
The Dead obviously didn't suffer from that lack of a multi-multi-multi platinum single. Their commercial accomplishments, not to mention the adulation of their followers, have eclipsed the success of most other performers on the list.
How did they do it?
Many fans, of course, would point to the group's music as the sole reason for their success. Others believe that The Dead elevated themselves from gifted musicians to cultural icons by helping to create an uncommon way of life around their music.
Two people who have studied The Dead's music and culture-building methods are social media gurus and Deadheads, David Meerman Scott and Brian Halligan.
David, of course, wrote "The New Rules of Marketing & PR" and "World Wide Rave" (full disclosure: David is a friend and client).  Brian, who authored "Inbound Marketing," is the CEO and co-founder of Hubspot.
Together, they've written a book called "Marketing Lessons From The Grateful Dead: What Every Business Can Learn From the Most Iconic Band in History," which ships from Wiley next week and will be in all stores by early August.
In the book's introduction, David and Brian call The Dead "one huge case study in contrarian marketing. Most of the band's many marketing innovations are based on doing the exact opposite of what other bands (and record labels) are doing at the time." A few contrarian examples:
While other bands protected their songs from illegal taping by fans, The Dead set up "taper sections" at their concerts, where fans could openly record music. Later, the fans would share copies with other Deadheads, as well as with people who had never experienced the music before. The pool of Dead fans grew exponentially.
While other bands saw touring as a money-draining evil that only served to get word out about their albums, The Dead turned the model on its head and built up their live shows into their primary revenue-generating vehicle. In many ways, the 45s and albums now served to promote the shows.
While other band treated their fans as an undifferentiated mass, The Dead would accommodate the niches in their fan base. For instance, one niche, referred to as "The Spinners," enjoyed whirling to the music during a concert. Rather than ignoring or having them ejected, The Dead erected speakers in the concourse, so that the Spinners could congregate there and gyrate without restriction.
While other bands left the responsibility (and profit) of selling concert tickets to the venues they were playing and to other middlemen, The Dead built their own mailing list and sold tickets to fans directly.
The book cites forward-thinking strategies like these, distills them down to their essence, shows how businesses are using these strategies today, and then teaches readers how they might use these ideas in their own business to build an active following.
I've seen only the first couple of chapters of this book, but I know David well and have seen his ideas change lives. And, though I've never spoken with Brian, I've heard raves about Hubspot. I'm guessing, then, that this book should go to the top of any serious businessperson's reading list. I'm certainly going to read my copy with pen in hand, so I can jot down notes on how I might use the tactics in my business.
A final note: To promote the book, David and Brian have scheduled a "Follow the Band Book Tour" (hashtag #GDbook).
That is, they're going to be doing book signings and virtual events as they follow Furthur (fronted by Dead musicians Bob Weir and Phil Lesh) and Rhythm Devils (fronted by Dead musicians Mickey Hart and Bill Kreutzmann) to  Massachusetts, New York, Connecticut, and Las Vegas.
The book tour starts on July 26th and ends on September 22nd. To find out more, visit David's blog, webinknow.com.